What are we learning here?
---
We learn what the tutorial site looks like.
We learn how sites are made of pages, and how each page is surrounded by layout elements.
All apps use a 'website' as the container and the delivery system, so we start by understanding your work-space - a 'website'.
When you open your Trial you will see a small website with a simple tabbed navigation-bar, as shown below. We have kept this site as simple as possible, so there are no images, banners or fancy navigation to start with. Here we are concentrating on the structure.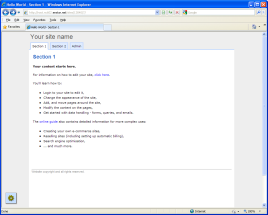 It has the following parts:
A simple 'Your site name' banner at the top
Section 1-tab (selected with a page to view)
Section 2-tab
Admin-tab (mouse-over for a drop-down menu)

Pages and Layout
In the example shown above there are two main construction elements: the Page and the Layout.
The Page holds the non-repeating information - the regular content in the 'body' of the page'.
The Layout controls the repeating elements at the top of the page - the head graphic and the navigation.
This is a component-based website construction system. The components are used to build a website in a conventional tree-structure. A basic principle of the system is that the content of the website is divided from the appearance: you control what is in the site - the 'data', separately from how it looks.
There are many different types of component. This example only uses a few components and features, and describes only the minimum of the settings - just to keep things simple while you are getting started.
In the next step we will edit a page on the site: