General self-serve configuration support is
available in the Support section
, please review those topics. Nearly every configuration 'question and answer' we have previously received has already been converted into KB articles and 'How to...' topics.
Personal premium support
General component configuration support by email is always free of charge for eligible Premium licenses.
Developer License
Support for the Developer License is
website documentation
only and does not include email or personal support. A small 'clearString' license may be
purchased (here)
to obtain email support.
Getting support
If you skipped creating an account when you downloaded - no problem - simply create one now, and associate your existing Installation Id with your account. Just follow the wizard.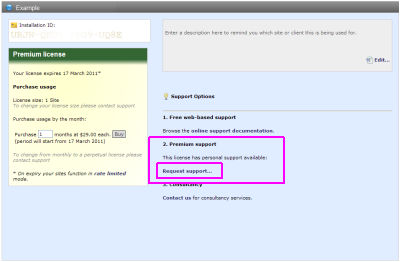 Locate the 'Premium Support' section of the page, and click the Request support... link (highlighted above).
You will be taken to the 'Help! - I need support' form. Follow the directions on the form: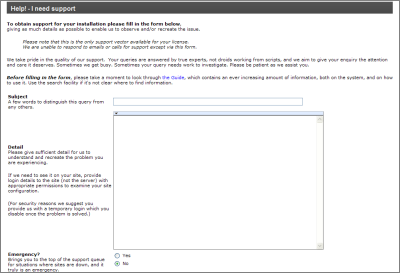 You will get a prompt response to your request for assitance.
Emergency Help
Please read the notice and warnings regarding the use of Emergency help.
No Support link?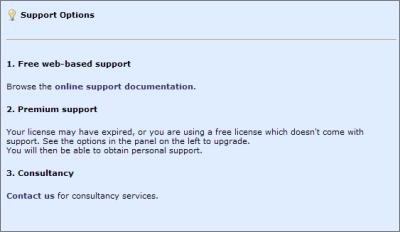 If there is no 'Request support...' link available that means either you are using a Free license which does not come with Support, or your license has expired.
You can purchase a license at the Premium License panel on the same page.